Our next production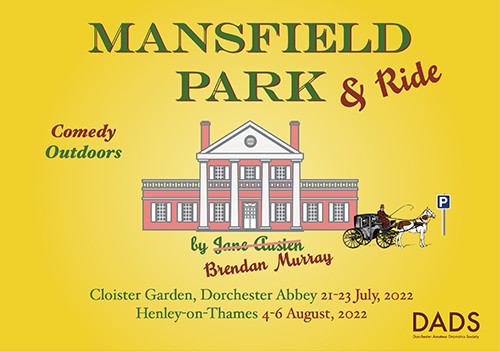 DADS are back with another outdoor production! The comedy, Mansfield Park & Ride, is an irreverent take on Jane Austen's classic novels. Originally written for Eastern Angles, Brendan Murray has reset this new version of his acclaimed play here in South Oxfordshire. It is sure to delight and entertain, whether or not you are a fan of Jane Austen.
Will Mrs Bonnet see her daughters wed? Will the dashing Captain Knightly keep his shirt on?
Dorchester Abbey, High St, Dorchester-on-Thames OX10 7HH – Thursday 21st to Friday 22nd July at 7pm, Saturday 23rd July at 6pm
Rupert House Playing Field, Fair Mile, Henley RG9 2JR – Thursday 4th to Friday 5th August at 7pm, Saturday 6th August at 6pm
This is an outdoor event and there is no seating provided.
Please bring your own low-backed chairs or rugs. Performances will continue in wet weather so please come prepared!
Running Time: 120 minutes (including 20 minute interval)
************************************************************************
Unless otherwise stated our shows are performed in
Dorchester on Thames Village Hall, 7 Queen Street, Dorchester on Thames, Oxfordshire OX10 7HR
---
Whether acting or helping backstage we would love to welcome you on the above date or contact us at the address below for more information or queries.
---
If you would like to be on the DADS mailing list for more information about future shows and auditions please contact Ann at the email address below