Our next production
A PANTO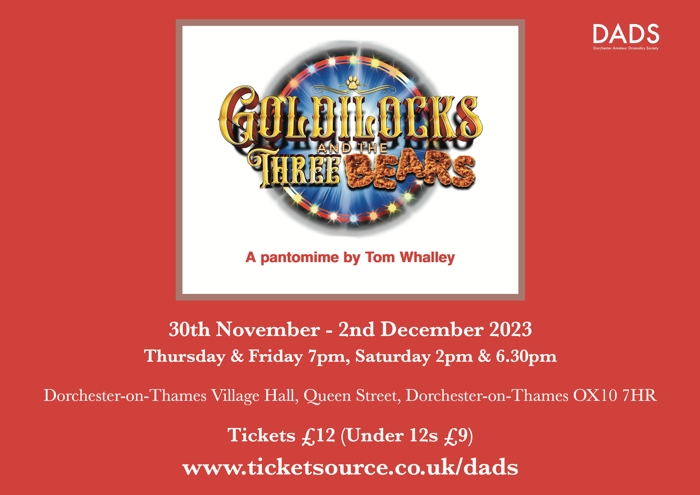 Roll up! Roll up! The Circus is in town! This year's DADS winter show is the circus-themed pantomime Goldilocks and the Three Bears by Tom Whalley. It's the perfect way to kick-off the festive season.
Dame Gertie Dollop runs the show with her son, Silly Billy but they have fallen on hard times. Particularly with the dastardly Ringmaster Heinkel, owner of the rival circus, up to his old tricks. Dame Gertie needs a miracle after their honeypot of pennies is accidentally stolen by three porridge-hungry, talking bears.
Could they be the new star attraction Gertie has been searching for?
Find out in the big top pantomime that's just right! Tickets £12 (Under 12s £9).
BOOK NOW!
The performance dates in the Village Hall are 30th November – 2nd December.
Thursday and Friday at 7 pm, Saturday at 2 pm & 6.30 pm
************************************************************************
Unless otherwise stated our shows are performed in
Dorchester on Thames Village Hall, 7 Queen Street, Dorchester on Thames, Oxfordshire OX10 7HR
---
Whether acting or helping backstage we would love to welcome you on the above date or contact us at the address below for more information or queries.
---
If you would like to be on the DADS mailing list for more information about future shows and auditions please contact Ann at the email address below