Jane Austen…but not quite as you remember her.
reprinted from Dorchester News September 2022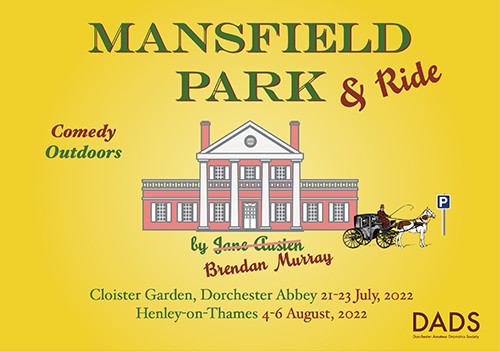 "What dreadful hot weather we have! It keeps one in a continual state of inelegance." So wrote Jane Austen to a friend in 1796. How little seems to have changed since then, except perhaps for the odd car park built on the outskirts of our Spar towns.
This July the Dorchester Amateur Dramatics Society (DADS) produced a highly entertaining production of Mansfield Park and Ride, a theatrical feast of Jane Austen's literary classics laid out with a generous helping from Pride and Prejudice, a side salad of Sense and Sensibility, and extra helpings of Persuasion and Emma—all to be sampled carefully with your tongue kept firmly in your cheek. The play was written by Brendan Murray—playwright, theatre director, and drama teacher—whose clever and witty script can be adapted to any local area. Hence DADS's production is centred around the illustrious and glamorous Regency towns of Harwell and Didcot.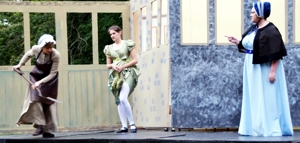 Poor Mrs Bonnet (Kate Phillips) is recently widowed and in constant need of medicinal tincture (in the form of port wine) as she grapples with the problem of finding 'a good marriage' for her three daughters; Lizzie (Lucinda Kenrick), Lottie (Russell Bailey—yes, the one with the beard), and Lucy (Alice Hope). From the beginning, the script is packed with double entendre, which only made widow Bonnet reach for a double dose of smelling salts—or more usually alcohol as the salts were rarely at hand.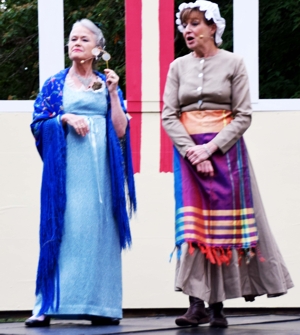 To add to Mrs Bonnet's woes, she now finds the family are to be evicted from their ancestral home, which has been inherited by a distant relative—the licentious (and unmarried) clergyman, Reverend Weakly (Ian Brace). Meanwhile Lucy, the youngest Bonnet daughter, spends much of her time outside in the rain, waiting to swoon at the sight of any eligible bachelor who might pass (inevitability wearing a wet 'Mr Darcy' shirt—after all, it is raining, and it is Jane Austen). Captain Knightly (Russell Bailey again, still with beard), heroically rescues swooning Lucy and arrives chez Bonnet, manfully filling the mandatory wet shirt. Meanwhile, enter Betsy the maid (Christine Jones), who seductively shows more interest in helping Captain Knightly remove his wet shirt than she does attending to her domestic duties. (Confused? We're not even half way yet…)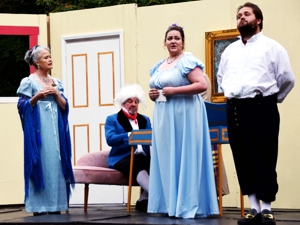 Meanwhile, the story moves on to a grand town house in Didcot, home of the widowed and eccentric Lady Kitty Fitz-Tightly (Rosemary Mills). Lady F-T has a testing relationship with her daughter, Miss Fanny Fitz-Tightly (also played by Alice Hope)—and also, inevitably, unmarried. Instead, M'Lady prefers to lavish her bounteous affections on a small furry mink which spends most of its time nestled in Lady F-T's bosom, only to pop out at inopportune moments. (Her mink, I hasten to add, not her bosom). After Rosemary Mills's memorable performance as a stoat in last year's Wind in the Willows, she clearly has a close affinity to working with small mammals on stage.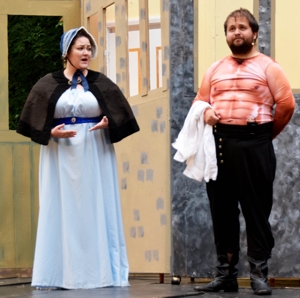 Fanny Fitz-Tightly is determined to exact revenge on her domineering mother and plans to elope with the most unsuitable suitor she can find in the form of Mr Daly (Ryan Fannin). Apart from being penniless, Mr Daly's main ambition is to develop a field (sorry Park) on the outskirts of town where visitors can leave their horse and carriage and ride into the town centre by railway—thus relieving Didcot of excessive equine odorous deposits. It is an ambitious plan which shows remarkable foresight, as the self-propelled steam locomotive had only just been invented.
If you think the plot is a little complicated by this stage, Ludwig van Beethoven (Ed Metcalfe) arrives for the summer ball. This makes no sense (or sensibility) at all, but it does give the dialogue some amusing linguistic confusion with a deaf German using an ear trumpet. It also gives Lady F-T the memorable line: "Indeed, I have always had a preference for German music—not surprising perhaps when you consider that my mother had a little German in her… possibly on more than one occasion." In fairness, M'Lady has a number of good lines: "Herr Beethoven here is about to enchant us all with the premier of his latest composition dedicated to a young lady friend of his with depilatory problems, Furry Lisa." (Look, I'm only writing the review, not the dialogue.)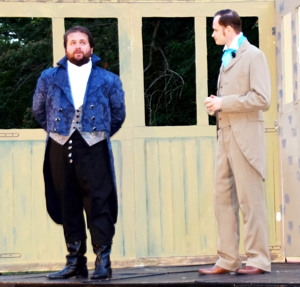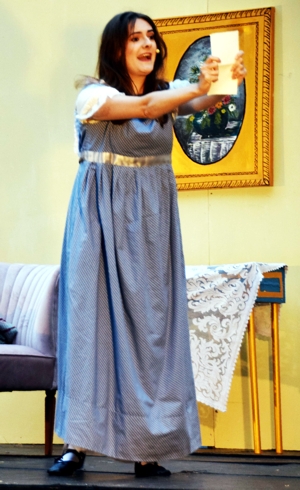 Brendan Murray wrote a sharp and ingenious script, but it is the actors who must deliver the lines—and with the right timing. Performing comedy is great fun, but not easy. If you're Marlon Brandon playing
The Godfather and you forget your lines, the dramatic pauses get you the offer of an Oscar. These unscripted theatrical hesitations rarely work in comedy, which is all about team work and impeccable timing. Think Yes Minister, Dad's Army, and Fawlty Towers. TV serial dramas all had great scripts, but without the lines being delivered with meticulous timing, the jokes fall flat. Fortunately, we have our own DADS army, with an oral cut and thrust which would have made Captain Mainwaring proud.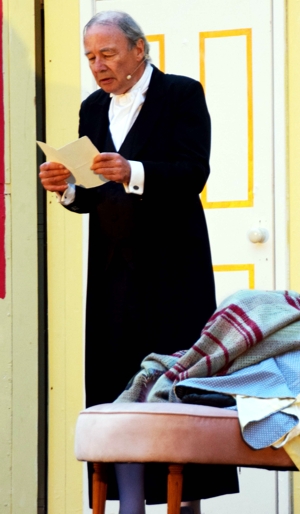 Knowing Miss Austen as I do (although not in the biblical sense, I hasten to add), I feel she would also like to thank the contributors from below stairs, without whose contribution no Regency gathering would be such a success: so thank you to maestro Mark Wilkin, architect Ed Metcalfe, auditory enhancement Simon Ratliff, artiste Elaine Wilkin, couturier Rosemary Mills, sommeliers Richard and Ann Winslet; supporting staff from the servants quarters included Michael Herbert and Kateryna Khomutenko.
In the circumstances, I feel I should end with a mis-quote from Ms Austen: "You nailed it guys!" (Well, it was always meant to be nouveau Austen).
Peter Firstbrook

reprinted from Henley Standard August 2022
Austen parody is outdoor theatre at its most enjoyable
THIS kooky Jane Austen mash-up from Brendan Murray is full of fun.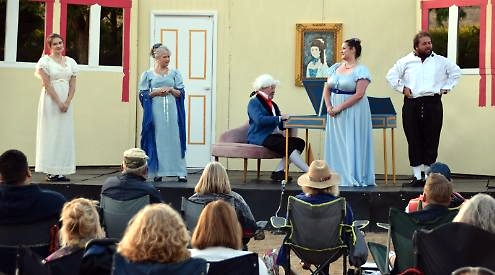 Ed Metcalfe's simple but ingenious set design takes us to a range of Oxfordshire locations, including North Harwell Abbey, the home of the widowed Mrs Bonnet and her three daughters.
Costumes from Rosemary Mills transport us back to the Regency period.
Austenite themes of marriage and fortune are at the centre of the drama.
A strong cast carries the comedy impressively. Kate Phillips is truly splendid as the fussy, distracted Mrs Bonnet, keen to marry off her daughters and retain a roof over her head. Lucinda Kenrick exercises comical restraint as her long-suffering daughter, Lizzie. Cheeky maid Betsy is played with perfect pitch by the very funny Christine Jones. Ian Brace is exquisitely creepy as the clerical bore, Reverend Weakly, who threatens to turn the Bonnets out of their home. Much hangs on marriage. Russell Bailey is larger than life as Lottie Bonnet and very amusing as bare-chested Captain Knightly. Alice Hope is captivating as youngest daughter Lucy Bonnet and also pert and funny as the unconventional Fanny Fitz-Tightly, eager to pair off with the entrepreneurial Mr Daly (an engaging Ryan Fannin). Eccentric Lady Kitty Fitz-Tightly is elegantly played by Rosemary Mills. For a forthcoming ball, Lady Kitty has secured the services of Beethoven himself: Ed Metcalfe is very funny in this role. The storyline is fashioned around a series of coincidences and bringing plot devices into the foreground is part of the comedy. The story culminates with comic misunderstandings over a note but, at the stables at dawn, all is resolved. The witty script is packed full of wordplay and innuendo. There are running jokes and a lot of hilarious juggling with language, including typical Austen expressions and a very clever exchange based entirely on makes of car. Mark Wilkin's crisp direction makes Mansfield Park & Ride another marvellous fixture in the glorious Kenton Summer Roadshow. I don't know if the Austenites would approve of this iconoclastic parody, but I loved it. This is outdoor theatre at its most enjoyable.
Susan Creed