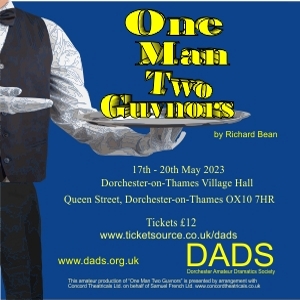 Re-printed from the dailyinfo.co.uk
Rollicking Farce is a Fantastic Time
In 2011, One Man, Two Guvnors, Richard Bean's adaptation of the 1743 Italian farce A Servant of Two Masters by Carlo Goldini opened at the National Theatre to critical acclaim. Now, the comedy finds a revival at Dorchester Amateur Dramatics Society. I went along last night to see if the play lived up to its glowing reputation.
The plot goes something like this: In 1963 Brighton, an out-of-work Skiffle player called Francis (Russell Bailey) hastily takes on two jobs in the hopes of making a quick buck: working as a minder for a small-time gangster, Roscoe Crabbe (Rosemary Mills), and an upper-class eccentric, Stanley Stubbers (Ian Brace).
Roscoe was previously engaged to mob boss Charlie 'The Duck' Clench's (Kate Phillips) daughter Pauline (Christine Jones) but was presumed dead after being stabbed by Stanley. Pauline now only has eyes for aspiring actor Alan (Ryan Fannin), so Roscoe's return complicates things.
However, Roscoe is actually dead and being impersonated by his twin sister, Rachel, who is the girlfriend of Stanley – who, as it happened, killed Roscoe and is now hiding from the police.
Got all that? Basically, all you need to remember is that Francis must keep his guvnors from finding out about one another. Should be simple but of course, hijinks ensue. More hijinks ensue than in most shows.
This summary makes the storyline seem infinitely more complex than it actually is. There's a sort of breeze-through quality to the play. Francis' main concern is just getting a bite to eat, and maybe a date with Clench's bookkeeper Dolly (Hayley Poole). The plot is basically a set-up that topples a domino of gags, with mixed-up letters, swapped luggage, a ludicrous alter-ego and non-stop physical comedy.
With this in mind, I doubt the structure and much of the plot really needed much updating from Goldoni's original – a lot of what makes a farce funny is timeless. But what Bean does is put a supremely English spin on things. One scene involving a very elderly waiter with a pacemaker could be straight out of Fawlty Towers. There is an authentic sixties feel to the dialogue – swinging, sleazy gangland shenanigans – which is matched here by the delightful set design (by Ed Metcalfe, who also directed), all kitschy pub signs and poppy Brighton Palace Pier artwork.
The accompanying band, who opened the evening with three songs, plays snippets of sixties music throughout- "Putting on the Style", "Hard Day's Night", etc – between scenes to keep us immersed and entertained. This is made necessary by the play's long set changes, but it's such an effective tactic I'd love to see it in more productions. That the vocalist, Sarah Passmore, also had a deep, clear, melodic voice that paired wonderfully with the keyboard and guitar of Ian Salisbury and Steve Eyre also helped.
As the 'One Man' himself, Russell Bailey brings an infectious joyousness to the role, which frequently veers between pratfalling buffoonery and a deluded but winning swagger. Francis is a tightrope walk of a character – a character who thinks he's cleverer than everyone else but whose schemes continually fall flat on their faces. You've got to be laughing at him, and simultaneously laughing with him. Thankfully, Bailey succeeds on both fronts.
It's also a physically demanding part, with long scenes of frantic motion and wordplay, most notably but certainly not limited to the tour de force sequence in which Francis serves dinner to his two guvnors simultaneously, while attempting to steal some for himself – which made laugh as well as gasp aloud.
It's worth noting as well that because the characters in this are deliberately caricatures – the mobster, the ditsy daughter, the upper-class twit who spouts off an endless stream of unfortunate cultural stereotyping – it doesn't distract in the slightest that the actors playing them are of different ages or are gender-swapped.
The acting is good across the board, but particular shout-outs go to Kate Phillips, who has great comedic delivery and is hugely watchable as Charlie Clench. Christine Jones is also a riot as the mobster's airheaded daughter Pauline Clench, a character with the potential to be seriously grating. Jones prevents this, committing enthusiastically, and infuses the right amount of warmth into the character. Ryan Fannin is wonderfully convincing as a brittle and sanctimonious wannabe actor Alan, held together by a mean streak and underwhelming attempts at intimidation ('I feel violent and unpredictable, like a wasp in a windowsill!'). Fannin doesn't overplay it, and he makes a great counterbalance to the more over-the-top characters in the play. And finally, Andy Pay brings distinct flavours to four separate small parts, finding the funny in each.
The show is sort of an all-you-can-eat comedy buffet, with slapstick (in one scene, Francis gets into a rapidly escalating fist fight – with himself), rude jokes ('Harold Dangle, of Dangle, Berry and Bush soliticators') winking comments (Dolly wagers that 'in twenty years' time, there will be a woman in charge at 10 Downing Street, and the voice of feminine compassion will be heard across the country'), and cajoling audience callouts from Francis. While the final scene drags on slightly, this is ultimately a gloriously silly and entertaining evening. Don't miss out.
Sophia Holme
---
One Man Two Guvnors review from St Peter's Players in Wolvercote
The Play One Man, Two Guvnors is well known from the National Theatre production starring James Corden. I knew of the play but had never seen it but was told by a friend who had, that it would be tricky to get it right! As far as I am concerned you did it DADS!!
The play is a farce where the main character Francis has to serve two bosses without either getting wind of the other. Needless to say, problems arise!
Dorchester Village Hall is a beautiful village hall with a small auditorium with a stage to one end of the room. There was little distance between the actors and the audience which, I am sure, could prove quite daunting but actually worked well with this script.
Russell Bailey was a tour de force as Francis, clearly at home with interacting with an audience. It was a shame his first entrance was concealed behind other cast members in front of the door. Russell was a real class act, funny and engaging and an actor totally inhabiting his character. This is not to take anything away from the rest of the cast who supported him magnificently.
The physical theatre involved was terrific – well rehearsed and very effectively executed. The script is very funny and got a lot of laughs from a full house. It was delivered well by a committed and hardworking team clearly comfortable working with each other. Funny script poorly delivered can fall flat but this certainly didn't.
There were many highlights. I loved Ryan Fannin, who when playing the aged Alfie, had his pacemaker turned up and moved like lightning. That was a real gem. A call out too, to Christine Jones, who I particularly enjoyed as Pauline – your comic timing was great.
Costuming was good – very evocative of the sixties setting. I thought the use of very obvious nylon wigs, which at first looked naff, but then as more appeared on other heads seem to run neatly through the play. This was a very clever and comically absurd device. If it wasn't done deliberately, don't tell anyone!
The set was well thought out and scene changes were effectively covered by a trio of musicians who treated us to a variety of musical hits from across the decades.
I really loved you all and had a fun evening. Well done to director Ed Metcalfe for not only considering this production but for, like Daisy, pulling it off!!
Great fun!
Clare Winterbottom
---
One Man Two Guvnors: A review for the Dorchester News
One Man Two Guvnors is a modern version of the 18th Century Italian classic A Servant of Two Masters. Author Richard Bean moved the story forward to 1963 and set it in gangland Brighton. I first saw the show more than ten years ago at its West End debut at the Adelphi Theatre and was blown away: one of the best theatrical experiences of my life. The packed audience roared with laughter throughout and it was clearly as much enjoyed by coach parties from Bradford as by London's theatrical sophisticates.
Could the same show put on at Dorchester's modest Village Hall last month possibly match my earlier experience? Silly question! We're talking DADS here. They are not your average bunch of amateur thespians. They rose to the challenge with great style and produced a performance that was simply sensational. It was driven along at breakneck speed by the tremendous energy of all the players with the musical trio (Sara Passmore, Ian Salisbury and Steve Eyre) offering smooth and soothing nostalgic interludes of Sinatra Lonnie Donegan or Beatles hits before the frantic activity resumed on stage.
No doubt the audience had some difficulty following the convoluted plot. I am not sure that mattered much. A brief resume was included in the programme but that probably added to the confusion. Francis Henshall is the man with two guvnors. An out-of-work skiffle player he is hired as a minder by Roscoe Crabbe, a small time hoodlum. Roscoe is in Brighton to collect £6,000 from his fiancée's dad. Only Roscoe isn't really Roscoe, he is in fact his twin sister Rachel posing as her dead brother who has been killed by Stanley Stubbers who also happens to be Rachel's fiancé.
Stubbers subsequently becomes guvnor number two for Francis who needs to ensure that neither guvnor knows about the other.
DADs now has a nice balance of players with a wide range of age and experience. I could not find a weakness in any of the performances large or small. The tremendously demanding role of Francis Henshall – which made James Corden a transatlantic star – was taken on by Russell Bailey and he gave the part the masses of energy it needed. He somehow held things together in the anarchic scene where he provides lunch for himself and his two governors with the help of two incompetent waiters. But perhaps his best scene came towards the end when wooing Dolly the bookkeeper he takes on two roles at once: as Francis enticing her with a holiday in Majorca and as Paddy the dashing Irish lover who offers her a trip to Margate. You will not be surprised Dolly – a chirpy performance by Hayley Poole – plumps for Majorca.
As a character actress Rosemary Mills once again showed her skills as Rachel Crabbe. In real life about as far removed from a cockney hoodlum as it is possible to imagine, she provided a cool contrast to the mayhem created around Francis.
Kate Phillips took on the the male part of Charlie Clench (another small time crook who owes Roscoe six bags of sand*). She has the difficult task of opening the play. Even though she is only telling us to turn off our mobiles, her perfected South London accent sets the tone for the whole show and we know for sure she's from Peckham and probably personal mates with Del Boy and Rodney.
Charlie is holding an engagement party for his daughter Pauline (Christine Jones) and Alan Dangle (Ryan Fannin) – two suitably drippy star-crossed lovers. These two – brilliantly disguised – turn up later as the unhelpful waiters Gareth and Alfie. Harry Dangle, Alan's dad, also happens to be Charlie Clench's crooked solicitor. Francis turns up to collect Roscoe's dosh but starts flirting with Dolly. Confusion reigns for the rest of the play.
Fresh from his success in the school nativity play at the age of six Andy Pay has obviously lost none of his innate acting skills. As Harry Dangle he put in one of the shows best performances on his debut with DADs. He also took on three other small parts with aplomb. His ultimate walking on part as the policeman who wanders on the stage and wanders off again without saying anything or making any impact on the plot gained some of the biggest laughs of the evening. He was impeccably costumed as indeed were all the players.
Now a regular DADs performer, Ian Brace perfected the role of Stanley Stubbers the upper class twit/gangster by wearing an ill-fitting wig which aged him considerably. I hope he kept it. If he wore it in the Coop he might get a discount.
Scene changes are always a problem in amateur shows as they can allow the pace to slacken. This one had more than most but the musical interludes provided the perfect cover for the stage hands to get smoothly on with the job.
Finally a word of praise for the show's director Ed Metcalfe. This was Ed's debut as a director. Simply a remarkable achievement.
* "A bag of sand" is cockney rhyming slang for "a grand" or a thousand pounds.
Jim Levi