Reprinted from Dorchester News June 2018
Hats off to Mike Davies. He not only wrote but directed, produced and appeared in this clever play that entertained audiences for four nights in May in the village hall. The plot revolved around two couples who are friends, John and Jo, and Simon and Linda. But one of each couple has a guilty secret: they have been arrested. John has been arrested for kerb crawling, Linda for assault of a Sainsbury's security guard. Both are due to appear before magistrates on the same day, and neither wants their partner to find out. There then ensues a series of encounters and plot twists that ends with the final scene when all is dramatically undone.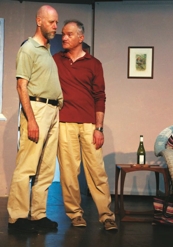 Mike has put together a clever play here, with some nice observation of dialogue and behaviour, particularly amongst the two couples, that comes across very naturally and realistically. This is mixed with some rather larger-than-life characters who appear around the court room, and who contrast with the rather everyday ordinary domestic existence of the couples, putting some perspective on the rather more routine offences with which John and Linda are charged.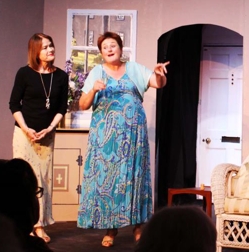 The cast, of course, executed the play extremely well. The two couples take the lion's share of the lines, opening the play and setting the scene over the first three acts. Here was quite a task for Mark Williams as John, Mike Lord as Simon, Rosemary Mill as Linda, and newcomer to DADS, Kate Phillips as Jo. Mark Williams as ever has a naturalism about his acting that allows you to really believe in the character he is playing, that he is that character. Rosemary Mills was sparky as Linda, running a range of emotions from excitement to despair. We last saw Mike Lord as Widow Twanky in Aladdin, and it took a few seconds to switch from the image of him in a dress to his role as a golf-playing middle manager, as who he gave an accomplished performance. This was the first time we have seen Kate Phillips in Dorchester, and she handled the role confidently. I particularly liked the scene at the end of Act 3, where, after the two men had had a trying afternoon at the golf club and the ladies had spent the afternoon gossiping, and both pairs had told us the audience about their secret, all four of them were a little worse for wear, almost tired and emotional. They portrayed this convincingly, which is not an easy thing to do.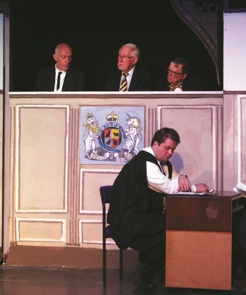 Action then switched from the cosy living suburban living room to court. Now we met some contrasting characters, the likes of whom Linda in particular had not come across before. Mike Davies himself played Mike Davies the old lag who frightened Rosemary's Linda in the waiting room with his coarseness. But she was saved by the 'tart with a heart', Magdalena Wozniak, played by Christine Jones. And what fun Christine had with this character. Cleverly written as an Essex girl pretending to be Polish, she was able to switch from over the top East European to sympathetic Estuary Girl and wrench the comedy and the bathos out of both. And the audience loved her as she pouted and strutted, particularly in her scenes in court, firstly as the accused and then as a witness. There was another comic interlude when Ed Metcalfe appeared as an Arnold Laynelike
Welsh preacher, charged for the umpteenth time with stealing ladies underwear. I am sure Ed would not mind me saying that it was a little difficult to pin down exactly where in the Principality his character came from, but he certainly gave it everything.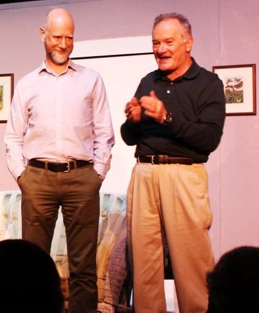 The stage sets were very well designed, with a shifting flat transforming the domestic sitting room to court room relatively painlessly, and the idea of having the three magistrates sitting high above the back of the stage, was genius. Up there,
Mike Selway was as magisterial as he should have been as the chairman, with another newcomer, Ian Salisbury,
throwing in the sort of lines that second magistrates are wont to do in my experience. Michael Herbert, who was also largely responsible for set design together with Mark Wilkin, made up the triumvirate. In the court, we saw another newcomer, Russell Bailey as the clerk of the court, mercilessly teased by Magdalena, together with Sue Booys playing the solicitor with aplomb, and Maxine Briscoe as a detective giving evidence.
After both John's and Linda's hearings were completed, and both avoid jail, the action shifted back to the domestic sitting room, where both parties are discreetly celebrating their freedom, still without
their partners being aware of it. A new friend, played by Ann Winslet, brings her husband to dinner, who none of them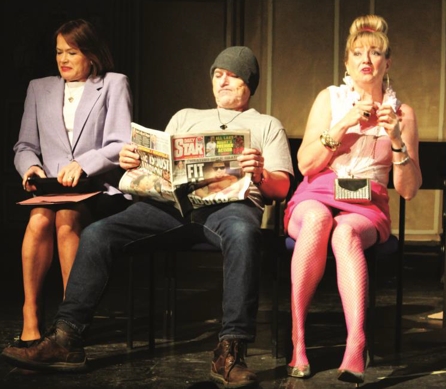 have met before, or so they think. But he turns out to be the chairman of the bench, the head magistrate!
We don't find out what happens following the shock to John and Linda that his appearance caused, which I would have liked to have been let in on. Did the couples end in divorce, as each had feared, of did they all find it rather funny now it was all over?
That quibble aside, it was a great first play by Mike, with the DADS team, cast and crew, giving it their all to give the rest of us four evenings of first class entertainment.
Ian Brace