Reprinted from Dorchester News Febuary 2019
Most people having seen DADS in action would agree they're always keen to take on new challenges and this was again conclusively proven with their final production in 2018. The crucial run-up to Christmas usually prompts drama groups to put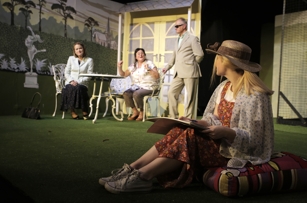 on a traditional panto or a light-hearted comedy requiring a large cast and lots of stage action. DADS most recent production, 'Joking Apart', didn't follow this approach.
The play, written by Alan Ayckbourn in 1978, was the author's take on 'ordinary' people facing the stresses and strains of living in socially correct relationships. A small number of business partners, close friends and 'other halves' regularly came together across a twelve-year period to renew relationships and share experiences. However, these gatherings also provided a melting pot in which to surface long-held emotions and resentments.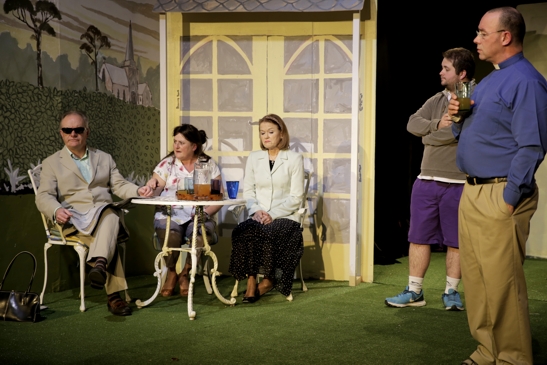 The social meetings were always set in Richard and Anthea's extensive estates alongside the new vicar and his wife's tiny fenced-off portion of their land. Things became worse when the host couples' efforts to make everyone feel at home only served to further remind guests how successful Richard and Anthea had become, especially when compared with their own modest achievements. To add further complications, guests brought with them still-simmering feelings from previous relationships with Richard and Anthea.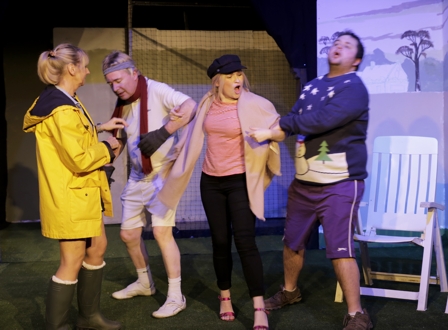 In business, love and sporting achievements the happy couple reigned supreme and admiration soon turned to envy and darker thoughts. Even worse was to come, Anthea had become the focus for some of their guests' personal hopes and desires. As the plot unfolded each mini-drama was brought into the spotlight, but all remained unresolved and unsatisfactory.
The saga ended with everyone carrying on as 'normal', which may not deliver a dramatic finale to a play but does accurately depict the British way of dealing with such problems.
It's fair to say that this production came as a surprise to some members of the audience who'd assumed that any play entitled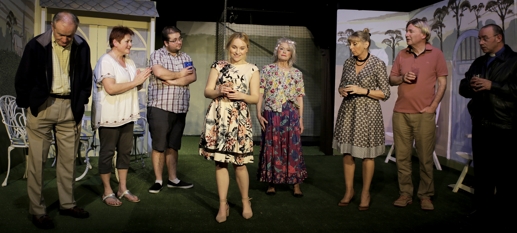 'Joking Apart' indicated a 'Whitehall' type farce and this certainly was not the case.
As you might expect from a playwright of Ayckbourn's stature this work is a thought-provoking reflection of situations we can all identify with and smile at. It's a tender comedy based on real people living in a real world touched with sadness and unfulfilled aspirations.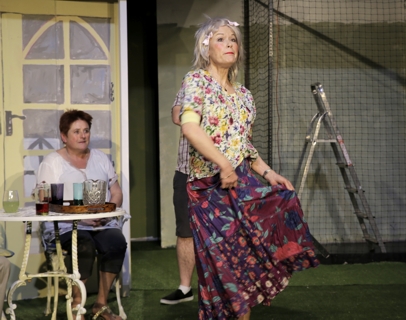 In choosing this play DADS accepted there's no hiding from the need to rely solely on acting ability without the usual theatrical safety nets. This they did and a remarkable job they made of it.
Carol-Anne Tilley (Anthea) was very believable as a focus of desire and envy in her role as hostess. Ian Brace (Richard, her husband), slightly upstaged by the totally outrageous wig he was wearing, was convincing as a vibrant business tycoon as well as being an athletic tennis player. A very different role to some of Ian's previous outings.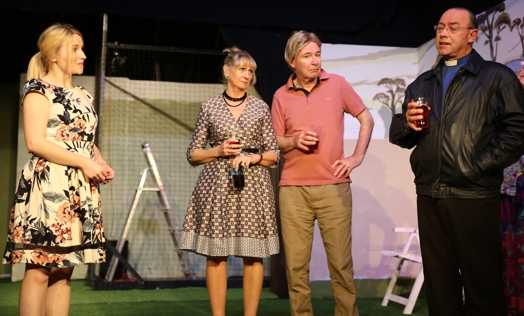 Richard's business partners had very different views on their relationships. Mark Williams (Sven) delivered a thoughtful and accomplished performance in a difficult role whereby he receives considerable financial benefits from Richard's business skills, but at the cost of being side-lined as an 'equal' partner and a potent force in his own right. This was further underlined when, as a once-famous tennis champion, his ego was smashed by Richard not only beating him but then reluctantly admitting he'd been playing left-handed to make a match of it.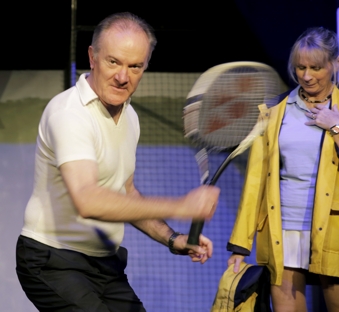 Kate Phillips (Olive, Sven's wife) agonising on the unfairness of her weight gain, compared to the ever-slim Andrea, displayed a powerful stage presence and a touching portrayal of someone suffering the pain of being a continual loser in life's lottery.
Russell Bailey (Brian), a fairly new recruit to DADS, works for Richard, but is hopelessly in love with Anthea, although he'd masked this by bringing along the attractive and highly versatile Phoebe Scotland (Melody, Mandy, Mo, Debbie) as his chosen, but mostly ignored, partner.
However, further surprises were still to come.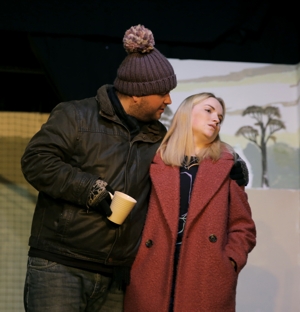 Neighbours, the new vicar Hugh (Jim Cottrell, first time with DADS) and his wife Louise (Rosemary Mills), found it difficult to protect their own space in a tiny fragment of their host's estates, especially as Hugh read much more into Andrea's friendly exchanges than was intended.
Louise saw her world disintegrating and became ever more neurotic. But these inhibitions were blown away by over-prescribed medication and she emerged as a fully-fledged Hippie, complete with 'flower-power' ideas, love not war philosophies and dream-like happiness. This brought many new comedic opportunities and Rosemary took full advantage of them.
This was never going to be an easy production to stage and Mike Lord, as director, did a good job of allowing the playwright's script to dictate the story. He also encouraged a well-chosen cast to develop their roles and bring their own feelings into the action. This approach paid off.
The players were supported by a thoroughly professional team of costumiers, stage hands, set builders, publicity agents, ticket sales and front-of-house staff, bar staff and general helpers.
The stage set was a clever and creative solution to having an idyllic English garden complete with a tennis court on a tiny stage without the need for major set changes. It caught the mood perfectly.
But special mention really must go to Simon Ratliff whose stage lighting and special effects set new standards for drama in Dorchester village hall. His creation of a spectacular indoor firework display tested the hall's new sound systems to the limit and his pyrotechnics caused this reviewer to have more than a few missed heartbeats.
Overall, 'Joking Apart' lived up to the very high standards we've come to expect from DADS and few other amateur companies could have put on such an impressive production in a village hall.
Keith Russell