Review of "'Allo 'Allo"
reprinted from Dorchester News  February 2005
In November 2004, DADS treated us to 'Allo 'Allo. This ran for many years on television and was famous for its awful accents, hammy acting and lack of political correctness. I'm pleased to report that DADS stuck to these same production values!
Our show, originally written for the West End, was an improbable romp featuring as you might expect: a certain painting of the Madonna; several large knockwurst sausages; British airmen; French Resistance; beautiful waitresses;
fiendish Germans; lecherous Italians; and of course René, the philandering café patron.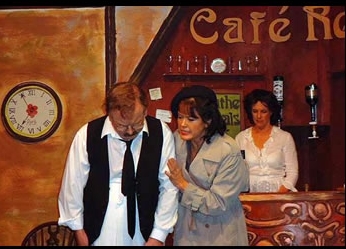 There was real peril for René when the painting was demanded by all sides, as indeed were his affections. The air was thick with tortured French, Italian, German and English accents. Some of the cast may now find it hard to return to normal speech! All had poorly kept secrets, but all were somehow likeable (except the despicable Herr Flick!)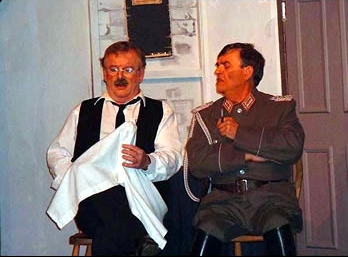 All our favourite characters were there. The whole cast was on fine form, being by turns alluring, devious, lecherous and ruthless. It is surely a matter of concern that Geoff Russell seemed so effortlessly convincing as the scheming René, caught in a web of loves and lies! Shirley Davies, René's wife Edith, could have nagged for all France, but also sang beautifully. Phil Greenaway and John Cornelius were excellent, each giving three roles and three accents without dropping either. It's a shame the same couldn't be said of their false moustaches! The delightful waitresses Yvette and Mimi, played by Liz Frederick and Jane Cannon, weren't just stockings, short skirts and sex appeal but were very good at these three!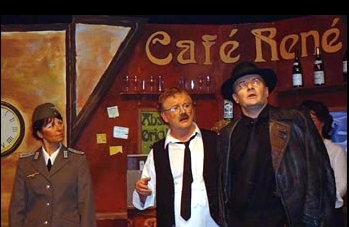 The resistance girl Michelle, aka Rosemary Mills, was all attractive steely determination, topped with a beret. Terry Chipperfield as Crabtree had a manner and an English accent that should have led to his incarceration in any civilised country, let alone wartime France! David Joseph played Leclerc exactly as he was in the original show.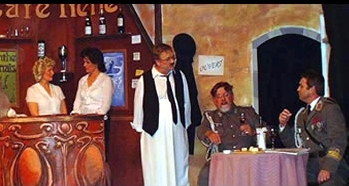 The 'occupying forces' couldn't have organised a drinks party in a brewery and to be honest didn't excel when running a provincial French town. They were skillfully played and delightfully characterised by Robin Clive (Colonel Von Strohm), Mark Johnson (Captain Bertorelli), the good Mark Williams (the nasty Herr Flick), Gay Goodall (Helga Geerhart), Michael Herbert (Lieutenant Gruber) and Anthony Sykes (General Von Schmelling). Each was scary with his or her individual vices, ineptitude and delusions of self importance, showing that even 'Allo 'Allo has a moral to it between the jokes.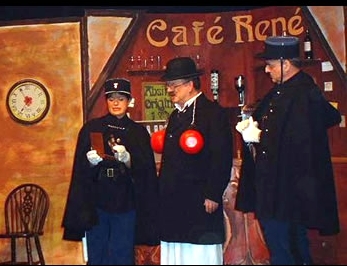 DADS should also be congratulated on the imaginative and well-built set that allowed scenes to change so neatly. Small details like the newspaper headlines and the voiceovers added to our enjoyment. The sound and lighting were also of a high standard. 'Allo 'Allo was a well chosen and acted piece.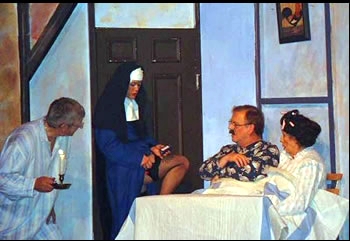 There was enough smutty material for the adults and lots of the more obvious humour for the children. Keep up the good work!