Review of "My Own Show"
reprinted from Dorchester News  2013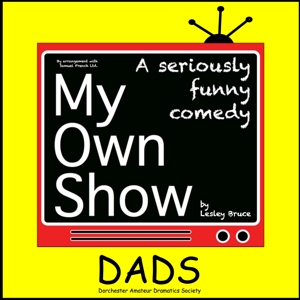 Three women of a certain age – Fay, Gillian and Jude – are having a post-mortem conversation on their return from Fay's This is Your Life. Sadly, Fay, who hosts a daytime TV chat show called Frankly Fay, is not at all happy about how it's gone. Big name personalities have been conspicuous by their absence, and she is feeling decidedly slighted.
Fay (Lucie Hall) is a hardnosed, media type with a celebrity style home, and no sense of loyalty towards Gillian and Jude. Gillian (Christine Jones) is a big City headhunter with apparently no private life, though it emerges later that she has a married lover.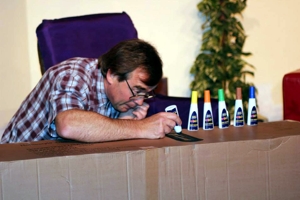 Jude (Carol-Anne Tilley) is a dithery, academic type with a vague plan to write a 'paper' on the ancient Assyrians. Gillian and Jude try to calm Fay down but to no avail. They are so rude to each other that you just know that they must be old school friends.
The conversation turns to their schooldays and an unpopular fellow-pupil 'Bollards' (real name Caroline Pollard), who has unexpectedly turned up as a result of This is Your Life. The three friends victimised her at school, to the extent of daring her to flirt with the geography teacher: the prank backfired, Bollards got pregnant, and the teacher lost his job.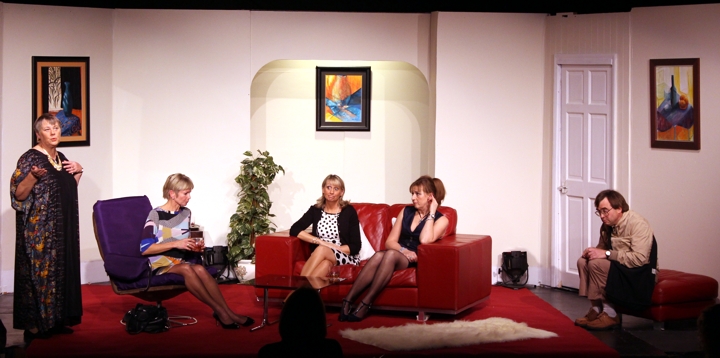 Now, all these years later, the larger-than-life, Bollards (Sue Kitson) is back in their lives though apparently with no ill feeling. She turns up at Fay's home and brings her son, Allan (Mark Johnson), with her. It emerges that the socially inept and unemployable Allan, the result of the fling with the geography teacher, has an all consuming passion for Dinky cars and not much else.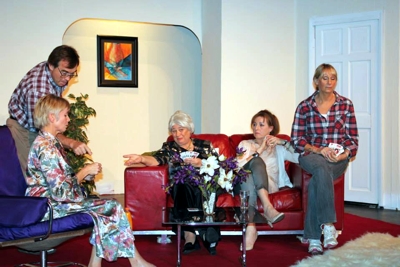 The arrival of Bollards sets the plot in motion, and eventually the tables are turned on Fay and her friends.  Fay has the idea of featuring Bollards as her stooge on her show but the plot backfires with Bollards gradually replaces Fay, in a new TV show (which is renamed Candidly Caroline).  Bollards, and Allan move into Fay's house and gradually take over her life.
The play was a mixture of comedy and pathos with midlife crises crashing about all over the place. It was a splendid vehicle for four talented actresses who each conveyed their character in a wholly believable way. Lucie Hall, as Fay, was eminently believable as a rather brittle fading TV personality. Sue Kitson, as Bollards,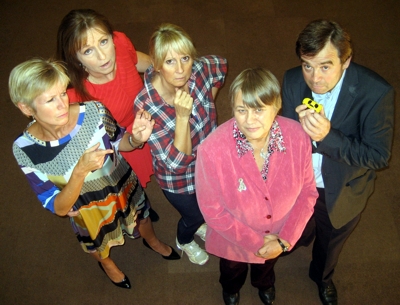 had a wonderful touch of Oprah about her as she got Christine Jones, as Gillian, and Carol-Anne Tilley, as Jude, to emotionally reveal that their lives were not as successful and meaningful as had first been presented. Mark Johnson as Allan had little dialogue, but aptly showed that less is more as he movingly demonstrated his passion for Dinky cars. However the movement through the plot is somewhat episodic which somewhat tests the cognitive prowess of the audience. I suspect that this more a fault of the structure of the play than the interpretation by the Director (Rosemary Mills) and the actors.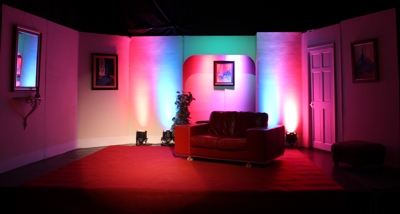 The staging appeared straightforward until one realised that it was necessary to change within seconds from Fay's drawing room to the television studio. Simon Ratliff is to be congratulated on his clever use of stage lighting to effect this instantaneous change.
Edward Metcalfe