Review of "Man of the Moment″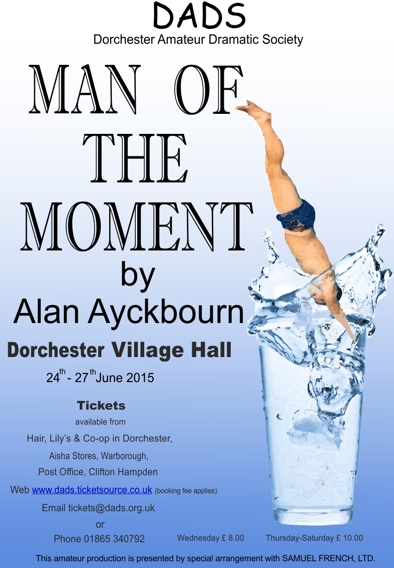 Man of The Moment Is a 1988 Ayckbourn classic; but rarely revived because it requires an on-stage swimming pool. Great credit should be given to the Director, Geoff Russell for bringing this play to the confines of Dorchester Village Hall, and to Michael Herbert and Simon Ratliff for creating a set which incorporated a wholly believable swimming pool and thus made the production possible.
On one level the play is a sardonic insight into the 1980's counter culture. The action takes place at the luxurious Mediterranean villa of a former armed robber Vic Parks (Mike Davies). Seventeen years earlier Vic raided a bank and a clerk Douglas Beechey (Mark Williams) attempted to disarm him. The gun went off causing a female hostage facial injuries. Vic went to prison and Douglas later married the female hostage and they settle down to a quiet life in Purley.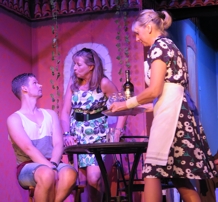 The play revolves around the recording of a TV programme "Their Paths Crossed" which sets up dramatic reunions. Vic, the former criminal, is now a TV personality and a ghosted author. Jill Rillington (Christine Jones) is the glamorous and exploitative presenter who tries to get Douglas to challenge Vic but fails because Douglas is now a truly content and quiet man who will not rise to the bait.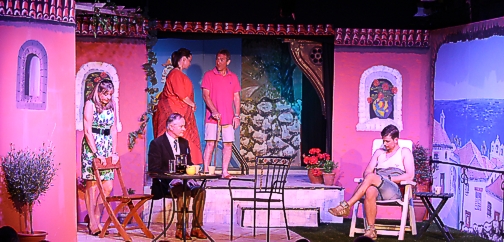 Douglas is played superbly by Mark Williams who inhabits a shy persona of awkward modesty, with a Mr Beanish presence on stage. The audience were racked with laughter when he is self-consciously acting the part of himself for a trial take by the TV cameras. Mike Davies as the loathsome Vic coped admirably with a large speaking role, and the drawback of a healing broken leg, but he did not exude the required level of menace, evil nature, and brutal disregard for others that is an integral part of the character.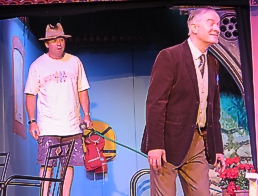 Christine Jones is very believable as Jill, both in glamour and moral vacuity as a career driven shallow TV presenter solely after good ratings. The moral centre of the play is provided by Vic's put upon wife Trudy, admirably played by Rosemary Mills, who makes the only real human contact with Douglas when offering sympathy and genuine regret for Vic's actions. Of course this would not be an Ayckbourn play if there was not humour also provided by the other characters.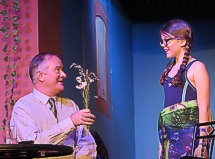 Johnny Cornelius provides strong support playing Vic's manager Kenny in a well controlled distant and effete manner, and knock about comedy is provided by Rachel Winslet-Morris as the bullied maid Sharon, and Mark Johnson as Ruy the incompetent Spanish gardener. They switch from pathos, particulary Sharon, to comedy, while being the butt of Vic's sarcasm and bullying.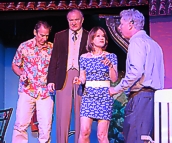 For all the laughter, this is a play which shines a critical spotlight on evil, on the tarnished face of celebrity, while being uplifted by the humanity of Trudy, and the firm moral code of Douglas, the "double-glazing salesman from Purley".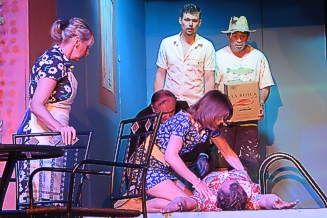 Great credit is due to the Director, Geoff Russell, the Producer, Ann Winslet, all the cast and production team for bringing a play from Mrs. Thatcher's 1980s to life; it is still relevant today.