Reviews of "South Pacific"
reprinted from Dorchester News  September 2005
Bali-Hi is Calling…
… and if you didn't respond to its call you missed a treat!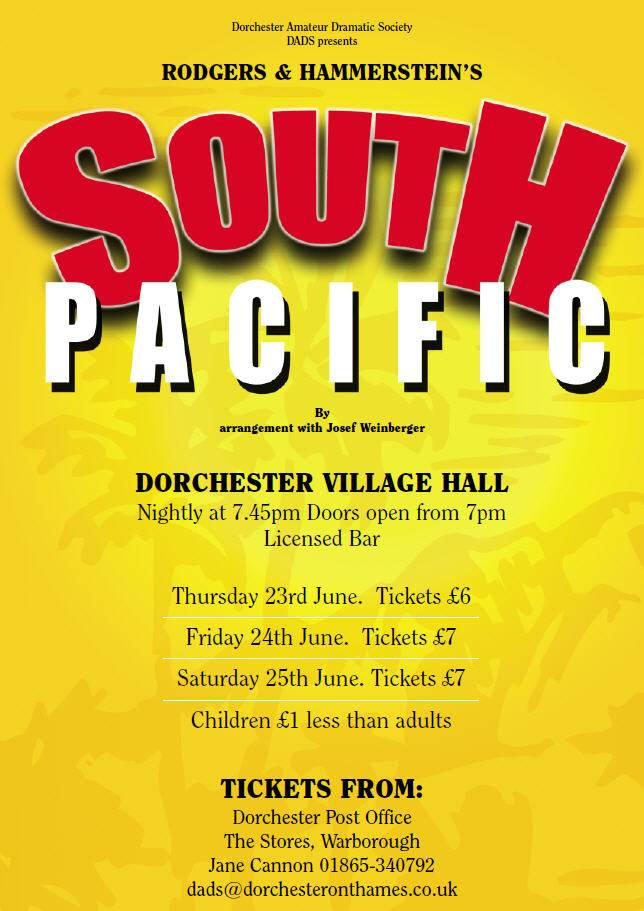 The energy and enthusiasm – to say nothing of the talent – that went into the DADS production of 'South Pacific' left little to be desired. Enhanced (?) by sub-tropical temperatures and stunning scenery, the audience, now on raked seating so that even those at the back could see every move, was transported to the South Seas.
One charming heroine, two heroes and a strong supporting cast took us back to exploits which may or may not have taken place in the Solomon Islands in 1943. The Cornelius family is blessed with an abundance of talent. Sarah, as Nellie Forbush, gave her all: so convincingly in love with her 'wonderful guy' Emile de Becque, ably played (once again!) by Terry Chipperfield, she even had the audience with lumps in their throats when she thought he had been killed. John, whose voice never fails to delight, made a convincing hero; and acrobatic son Johnny made a long overdue comeback, playing one of the energetic but sex-starved sailors – all of whom were in excellent voice. The chorus of nurses, too, sang and danced with exuberance. Wow! Congratulations must go to the choreographer, Maria Robertson, who did an excellent job, cajoling some possibly reluctant feet!
Elaine Healey, who played Bloody Mary, the persuasive native seller of shrunken heads, grass skirts and the like, brought the atmosphere of the islands to the stage. Joanne Garvey as Liat acted well as her silent but desirable daughter.
In the last DADS show, Mark Williams was a mean-minded Gestapo officer; this time he appeared slightly more human, but 'Ironbelly' was still not someone with whom to cross swords. His sidekick, the imposing Commander 'Pearl' Harbison (Sue Kitson) was another 'not-to-be-tangled-with' officer. We always enjoy both their performances.
We have been amused by Mark Johnson's capers for several years now. In South Pacific he once again became the resourceful but somewhat hair-brained Luther Billis – always in trouble. As for Emile do Becque's children, played by Olivia and Sarah Johnson, who sang and spoke in flawless French – they were delightful. Is this the beginning of another DADS dynasty? Fussing over the children was their nanny, well played by Shirley Davies (who later doubled as the radio operator), and who could also have been born and bred in France.
A special mention should go to Nancy Wing for schooling the cast in their American accents. A very minor niggle is that the programme listed the cast in alphabetical order, whereas 'order of appearance' would have been more helpful.
All in all, a terrific show – well done everyone, especially the Musical Director John Howell, Director Terry Chipperfield, Producer Michael Herbert and all those backstage workers, without whom the show could not possibly run smoothly. Enjoyment radiated from the entire cast, and we all look forward to the next show.
Stage-door Johnnie
South Pacific
From an anonymous member of the audience
What more appropriate show could we have had during the hottest week of the year to date?
The Sound of Music is thought by some to be simply a vehicle for Julie Andrews. It isn't, and in book form is more powerful than the film as a description of the breakdown of Austrian society, under the Nazi jackboot. By the same token, South Pacific is assumed by some to be just another saccharine musical – butch sailors chatting up native girls and female officers without distinction, on a sun sea and something Pacific paradise.
In all truth it is worth more than this, as the war against the Japanese intrudes rudely on sailors living in an apparently war-free zone and upon at least two relationships central to the plot.
However, it is a difficult show to bring off, switching as it does from the banal and romantic to serious war operations at a flick of the stage manager's hand. Written with many scenes, doubtless with the scene-changing facilities of a Drury Lane in mind, South Pacific hardly lends itself to amateur production either.
Aided by Terry Chipperfield's clever editing, and by David Joseph and Allan Smith's revolving stage, first seen in last November's 'Allo Allo' this DADS production had pace, and a welcome simplicity in its sets. In short, it had great charm. Granted that the hall was warm, so also was the tone of the production, and most of the audience had warm smiles permanently stitched to their faces, even if the outright guffaws were more limited in quantity.
With perhaps a couple of exceptions, the casting was entirely appropriate, and the cast had evidently worked hard to achieve unity. The chorus singing was generally good, and the three principals were musically outstanding. They acted pretty well, too, lest that be thought to be a dismissive remark.
What is it in the genes of the Cornelius family? For many years we have enjoyed John's rich tones, and as John played the doomed Lieutenant Cable we enjoyed them again. In this production however he was joined both by son Johnny (a sailor) and daughter Sarah as Nellie Forbush, the heroine.
Twelve years ago we marvelled as the then very young Sarah sang her way into our hearts as Dorothy in The Wizard of Oz. In 2005, she projected real stagecraft as she held the spotlight and delivered Nellie's various party pieces with genuine brio, and quite obvious enjoyment. It was worth the entrance money just to listen to and watch her.
Terry Chipperfield successfully revisited the part of Emile, having first taken it on in the DADS production of the early nineties, when he played opposite the charismatic Julie Bartley. Sarah Cornelius did not suffer by comparison, and that is praise indeed.
It was good to see some new names among the ladies' chorus, and to welcome Jo Garvey as the strangely mute Liat, Lieut. Cable's inamorata. However, without a few more male members, one cannot help feeling that DADS are going to be pushed to put on this scale of production again. What a shame when they do it so well.
Lastly, a word about the invisible heroes and heroines. Firstly, the musical standards were gratifyingly high, if not entirely consistent across the board. John Howell, when not winning inconveniently-timed County Council elections, must have spent many long hours coaxing performances from his charges. The investment was worth it.
The sound and lighting reached DADS' usually high standards, thanks to Simon Ratliff in his computerised erie at the back. The sets were changed with bewildering speed and efficiency, and for that the self-effacing but always hard-working Jane Cannon must be applauded. They were painted with some style as well, for which Adrian Brooks and Co are to be congratulated once more.
We take all these talents somewhat for granted, don't we? This critic simply reflects that in a village of 1,000 people, such talent is amazing.